A Design Sprint is just that, a sprint. It only takes five days and by the end, it can help you make important design decisions for your product before you begin development. The Design Sprint involves everything from coming up with ideas through to building a basic prototype and testing with customers. This blog will outline the key steps of a Design Sprint and what the overall benefits are to your project.
What is a 5-Day sprint?
Monday: Map
Map out the problem you want to solve as a group and decide on an important area to focus on. Remember that you only have 5 days so you need to be ambitious but realistic with your goals!
Tuesday: Sketch
Sketch out all the solutions the group can come up with and discuss. You can use existing ideas from other websites or digital products to get some ideas going.
Wednesday: Decide
Now you get to decide on a solution. You will go through all the previous day's ideas and choose the one that stands the best chance of achieving your goal.
Thursday: Prototype
Now that the team has chosen a solution it's time to build a very basic prototype that can be tested by the people that will be using your digital product.
Friday: Test
On the final day, you'll have real users testing the prototype who will give feedback on what they like and don't like about the solution. From these findings, you can make informed decisions going forward about how to tackle your project.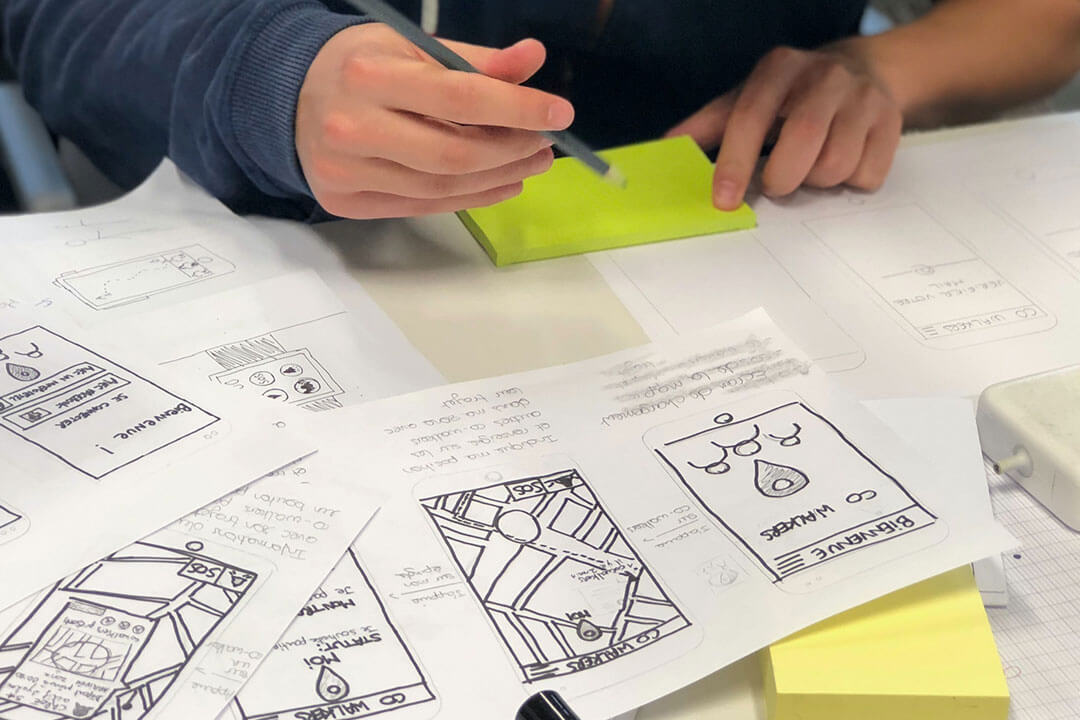 Benefits of a design sprint
Everybody gets a say
Design sprints bring together key people from your organisation including decision-makers and stakeholders. This encourages cross-team collaboration and everybody has equal footing during the design sprint. At Somar Digital we're really keen to apply our digital expertise to your business needs and by bringing in key people from your company we can get a much better understanding of how we can help you best.
Setting up expectations
Everybody has to be on the same page from day one. Because stakeholders are involved with the design sprint it gets their buy-in straight away and sets up realistic expectations about the problems you're solving and what will eventually get delivered once you get into the project proper.
You get things done
Blocking off five days to complete a design sprint has a great way of removing the usual roadblocks and distractions from making important decisions. A design sprint is a great encapsulation of the agile methodology that we apply to all of our projects. The team is focused on providing and delivering solutions and because of the tight time frame, it forces everybody to be decisive and to figure out what actually needs to happen to complete a successful project.
Catching mistakes early
Finding mistakes with the product you're building is inevitable but a design sprint can help mitigate the overall cost of making changes by catching mistakes early and often. You'll learn a lot about the product you want to build in five days especially when you get real users testing the prototype.
Putting the user front and center
Maybe the most important part is that the entire sprint is designed at finding a solution that benefits the user first and foremost. Because you actually get to test the prototype with real users you gain invaluable findings that will affect all your decisions going forward with the project. This could save you in the long run as you pick on key details early that you might not have picked up until after completing the project if you hadn't done a design sprint.
Do you have any questions regarding design sprints?
Does it sound like something you'd need for your next digital project?
Click the link below to get in touch!
by Somar Digital