There is an element of design which doesn't always get the attention it should, especially in an online space: Storytelling.
Well-written, comprehensive content is always key for your product, website or mobile app. But going a step beyond and taking users on a journey is a huge plus.
Great stories - from Shakespeare to Guardians of the Galaxy - are driven by insight into human traits and desires. They need to be entertaining, have the right dramatic cues, and tap into our collective psyche. Why do people care so much about Harry Potter, Katniss Everdeen, or Walter White? None of them are real! But their narratives still draw us in and make us feel.
This type of emotional investment is something companies strive for every day. Apple's success is partly because it sells products that are beautifully designed, simple to use and user-friendly - but the Apple brand sells a much bigger picture. Apple use references to creativity, passion and individuality through-out all of their marketing materials. Even their physical stores create a memorable, personal experience that's light years beyond old-style computer retail.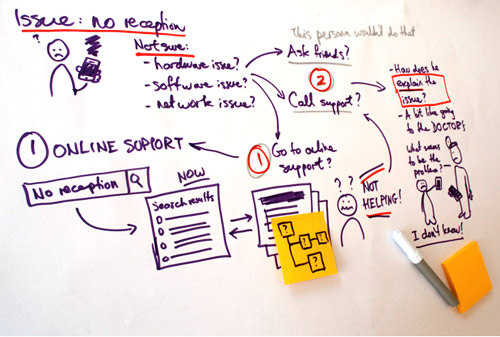 Tesla, the motor company, have also crafted a powerful story behind their brand that is less about a car, than it is about a revolution. On the surface, it's another company that's interested in selling luxury, high-end cars for maximum profit. But Tesla has grown a dedicated following thanks to its ambitious goal to wean our planet off fossil fuels and help to create a long-term sustainable society. In it's short time, Tesla has become synonymous with innovation and authenticity.
Your online presence plays a major part in your brand awareness, and a website is an ideal way to communicate your story to your users and potential audience. Somar harness User Experience (UX) design to help clients identify a narrative or key objective that shapes their online presence, or helps them distinguish themselves from competition. We then use our creative craft to support memorable, successful user stories that are engaging.
The three key ways we achieve this are:
Making users the characters in the story, to try and understand and empathise with them.
Pushing elements like colour and clear pathways to help the site connect with the target audiences.
Keeping the bigger picture in mind from start to finish. Just like a good story, the user should be led through a beginning, middle, and end. Whether it's selling a product online or communicating a key message.
Somar used these methods when redesigning the Metlink website(external link). We researched a number of user stories to represent people from different walks of life - for example, are they local or new visitors to the city?; what is their age or what is their access to technology? - to try and ensure that a diverse audience would benefit from the new site.
To accompany these users, we also created a series of stories - for example, "Mrs Brown needs to visit Wellington Zoo tomorrow afternoon, and she lives in Seatoun"; or "Mr Green needs to quickly see the next available bus departing from Stop 4621". These user stories became the foundations for the UX and redesign of the new Metlink site.
Conclusion
Somar use these basic storytelling techniques, such as a strong narrative and a cast of characters to help design and develop products that instantly connect with people.
If you're interested in how this approach can help your online presence and increase engagement with your audience, click below as we'd love to talk to you.
by Angus Deacon